Easily order online.
This easy-to-read aviation book is ideal for student pilots with no flight background who wish to gently immerse themselves in flight training. Perfect for private and sport pilots to brush up on the aero basics before a biennial flight review (BFR). Flight and ground school instructors will appreciate the Private Pilot Beginner's Manual (for Sport Pilots too) 2nd Edition as the ultimate guide for introducing or reviewing aeronautical basics without scaring off future, or returning, pilots with overly technical dissertations. You'll laugh, you'll fly, you'll refer back to it throughout your flying life. Keep Flying! Click here to order.

It's 1937. The Depression lingers as Dust Bowl and SPAM enter the American lexicon. War begins in Spain. Amelia Earhart is lost over the Pacific, and the King of England, unable to cope with her loss, abandons the throne to marry some woman he pretends to love. More importantly, Prohibition is over, leaving thousands unemployed. Gangsters, G-men and barnstormers who'd once made a respectable living in the bootlegging trade turn now to less interesting work. For pilots this means airline jobs, except for one enterprising flyer, Kate Strauss, who can't qualify for the airlines, because No Women Allowed in the cockpit. Kate, along with a devoted circle of friends and lovers, keeps a small midwestern flight operation aloft by the numbers…the numbers racket, that is. Money laundering, Chicago mobsters, biplanes, newsreel footage, running boards on a blood red Ford V8, ten cent gas and nickel cigars, plus a few Hollywood celebrities just to give it class…it's all Inside The Circle. (Rated PG-13 for gangland violence, crude language and shameless smoking in public.) Click here to order.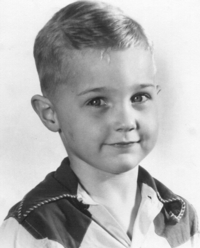 Seventeen years after Artie Azzetti first appeared on Rejection Slip Theater, the author finally...finally (the lazy bum) got around to publishing a paperback collection of some of the short stories about the gang of kids from St. Anthony's Elementary School in Westwood, New Jersey 07675 (Exit 168 Garden State Parkway). You'll laugh, you'll sneeze, you'll get detention in Sr. Belladonna's class. But that's no excuse. Order your copy of Artie Azzetti & Me today....no, today. Click here to order.