Easily order online.
There's only one place in our Universe where America's first east-west transcontinental highway crossed its first north-south road. The Lincoln and Jefferson Highways met in Iowa and like indifferent travelers, parted ways at an intersection of reality and romance called, Niland Corner. A roadside café and two gas pumps marked this cosmic way stop on the prairie, where countless lives converged and separated in the days before Interstates smothered the beauteous majesty of travel with illusions that reaching a destination mattered. Of real concern are two fate-stunned travelers who seek what they cannot perceive. Carla, old enough to know better, and Matthew, even older, are oblivious lovers suspended in Time and Iowa…plus bits of Michigan. It's complicated. Matthew is a flight instructor who quit learning from the sky after his wife died. He seeks nothingness. Carla loved the corporate life until being "let go" and now tracks a journey parallel to Matthew's. This question might appear on your midterm: Can parallels ever meet at an intersection? This is the fifth novel by Paul Berge. Niland Corner is a quantum companion to his previous novel, Muzzy, and continues his exploration of the insanely amusing possibilities of unsupervised Time. Click here to order.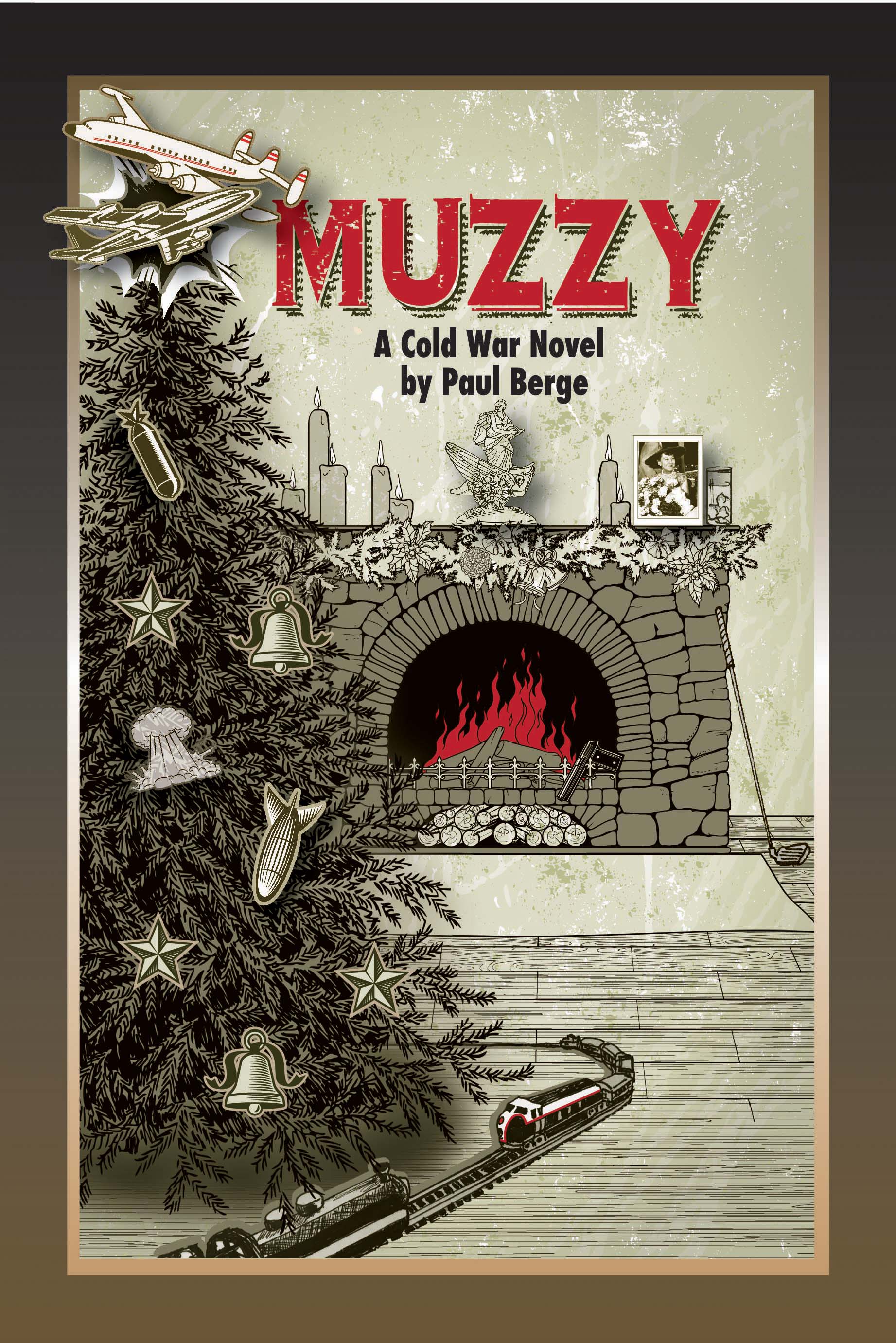 December 16, 1960. Vice President Richard M. Nixon, having lost the recent election to Joe Kennedy's kid, slips out of Washington, DC and into an alternate dimension. Based on true events, two Time vectors intersect above New York City. United Airlines Flight 826 is minutes away from landing at New York's Idlewild Airport, while TWA Flight 266 heads for LaGuardia, when holiday plans are abruptly cancelled when the two airliners merge in space and Time. But it was almost Christmas, and no one wants sad TV, so the final Ike and Mamie Eisenhower Christmas Special with Perry Como goes on as scheduled. All seems right with the world, despite something going weirdly wrong with Time. The Cold War was closing the books on planet Earth, when Aunt Charlotte—in sensible shoes—meets Nixon aboard the last of the overnight sleeper trains, wherein they find love and set out to save humanity with help from Charlotte's six-year-old nephew, Muzzy. This is the fourth novel by Paul Berge, a pilot and retired FAA air traffic controller. Muzzy explores the insanely amusing possibilities of messing with Time. There might be a quiz, but cheating is encouraged. Click here to order.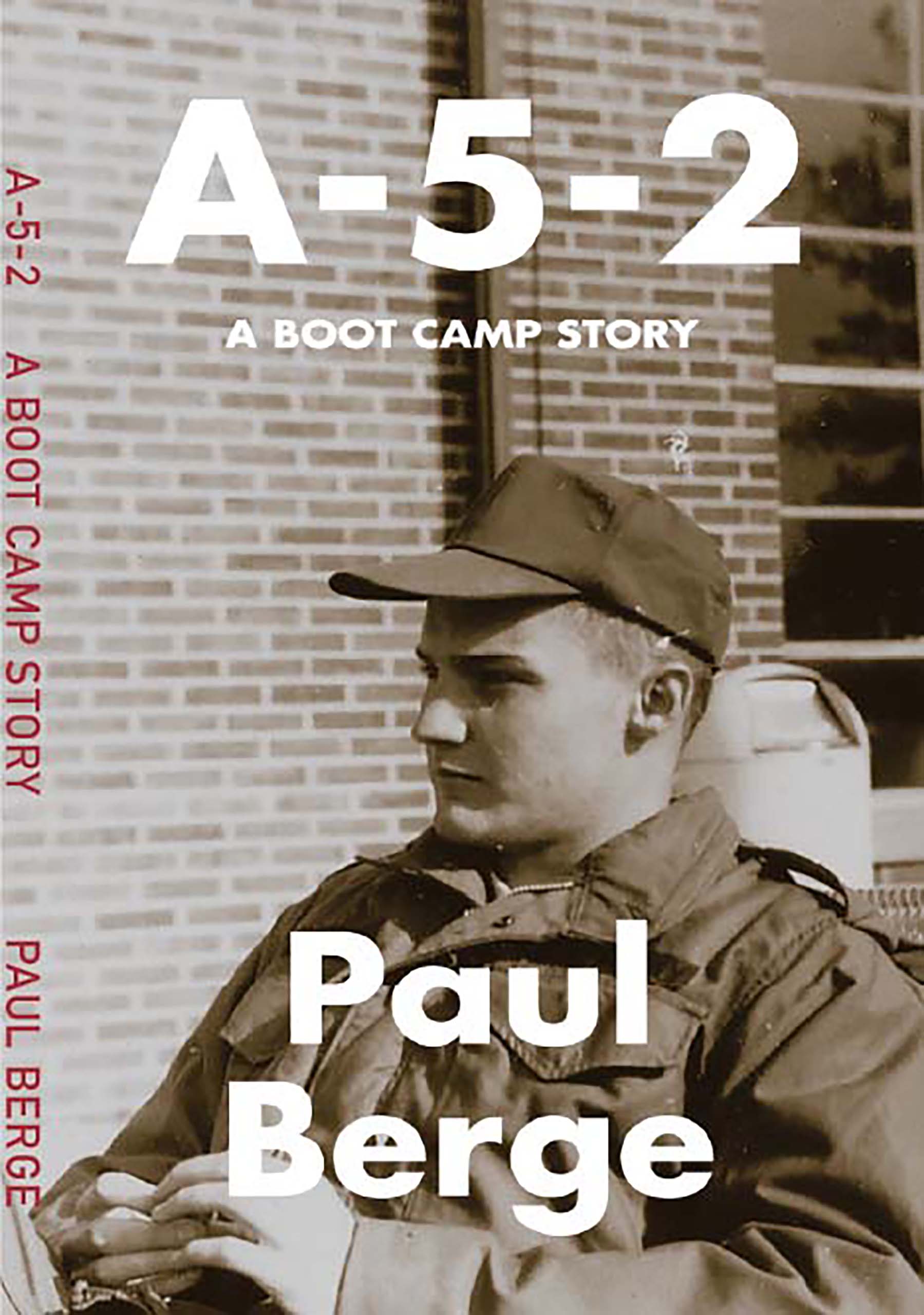 At 18, Paul Berge, author of Muzzy and Aeromancy, volunteered for the Army during the Vietnam War to avoid college. As with all veterans, he had to survive Basic Training, which was intimidating and painful but ultimately damn silly. On the positive side, they let him shoot up shit with machine guns, which is way better than college.A-5-2 takes the reader from civilian to soldier via institutional absurdity unimaginable outside the Twilight Zone but routine inside the military. Welcome to Alpha Company, 5th Battalion, 2nd Basic Combat Infantry Brigade: A-5-2. Childhood ends now… Click here to order.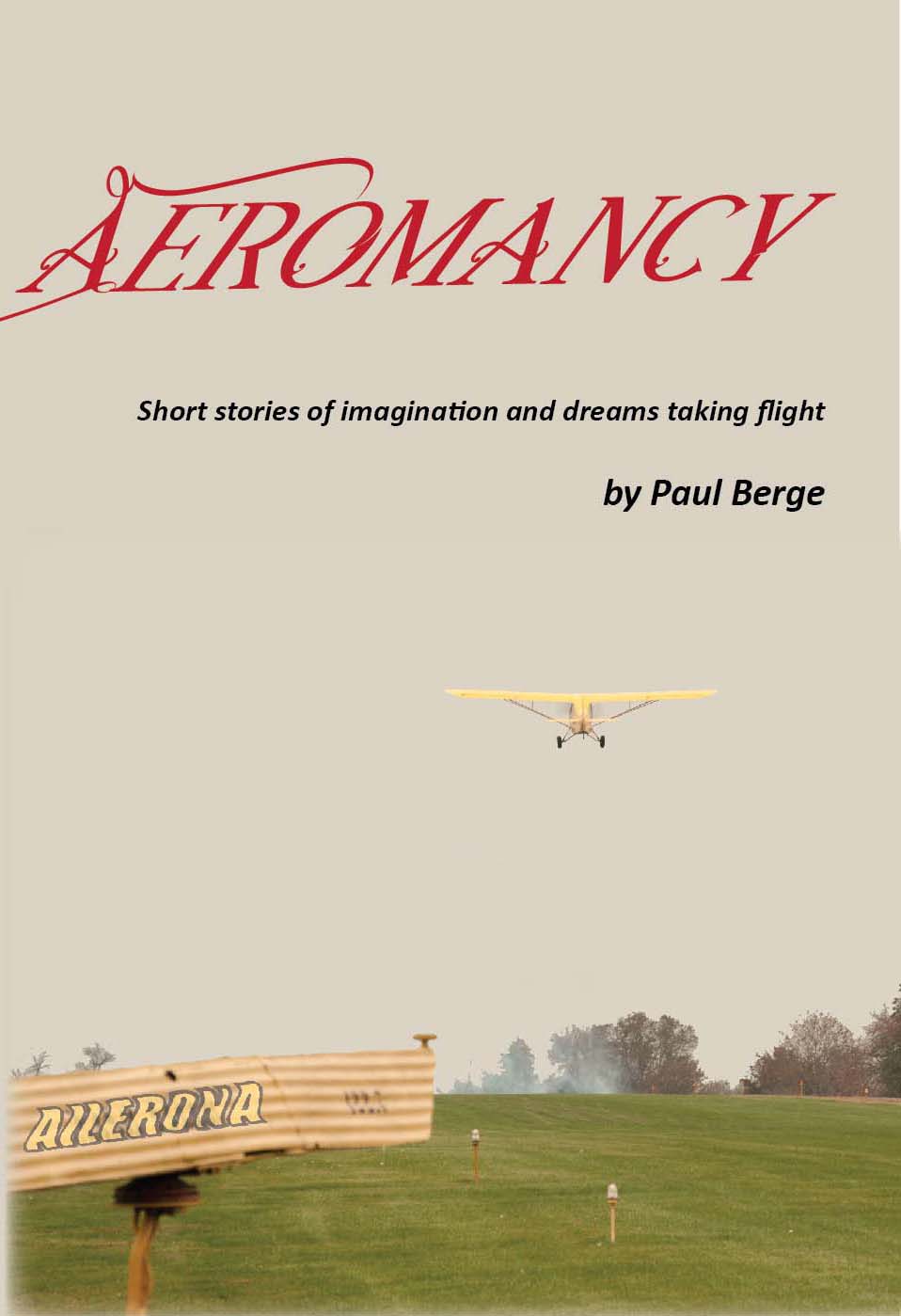 Picture a fence. On one side stand wingless adults with stunted imaginations. On the other are kids of all ages who know that physical barriers can't keep freed minds down. Aeromancy, by Paul Berge, takes sides and flies the reader across a landscape of dreams unlocked during his lifetime or two of flight. Ninety-one short stories present the irrational passion of those who inhabit the small airports where real aviation lives. The characters are outcasts, aeromantics who shun perceived reality and, instead, casually lift into the sky where there are no limits to an open-cockpit mind. You'll taxi old taildraggers across Midwestern grass airfields and challenge a lover to a Biplane Dual above the Hawaiian Islands. On a small airport along California's Monterey Bay, you'll meet a man, a dog, and a woman who flies into their lives to show that the spirit of life is free to anyone who falls in love. Aeromancy takes you to the other side of the airport fence. If you're already there, it's reminder just how lucky we pilots are.. Click here to order.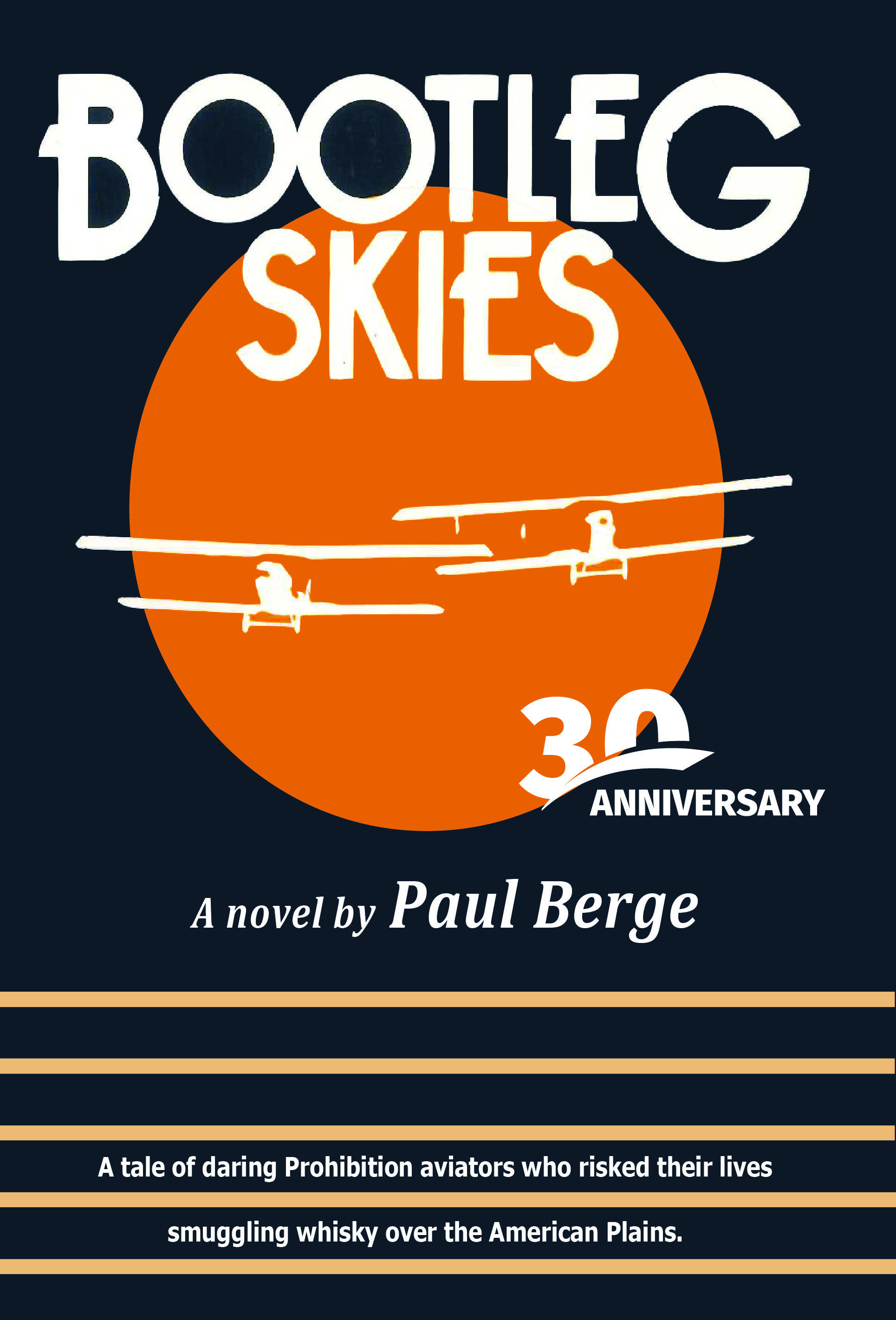 Ahquabi House Publishing announces the simultaneous release of two novels by Paul Berge: Bootleg Skies 30th Anniversary Edition and its sequel, That's Life, I Guess.
Aging in Sitka spruce barrels for three decades, Bootleg Skies, Berge's 1987 debut novel, pours like matured whisky in this 30th Anniversary Edition as it takes you to 1929 when Prohibition was simultaneously pissing off Americans while making bootleggers very rich or very dead. Meanwhile, advances in commercial aviation signaled the twilight for barnstormers hopping rides from hay fields in open-cockpit biplanes. But Jake Hollow, an enterprising, if ethically-challenged, tramp pilot grabs opportunity to combine flying with bootlegging to make the big, illegal—and potentially deadly—bucks. Click here to order.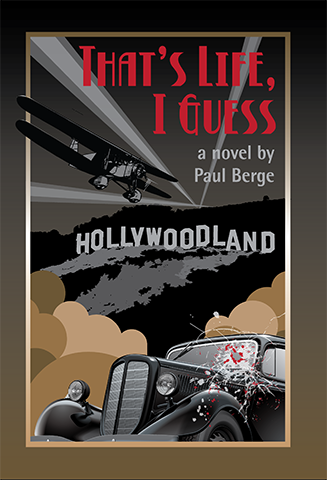 Nothing gold can last, so when Depression replaces Prohibition in the 1930s, unemployed flying bootleggers, like Jake, follow the American dream to the rainbow's dead end—Hollywood. Broke, hungry and without wings, Jake rides the rails into L.A. at the same time the East Coast Mob, led by Benjamin "Bugsy" Siegel, arrives in style to spread its wings over the City of Angels. With Prohibition repealed, mobsters turn to expanding illegal gambling operations in Southern California. To skirt the law, the casinos are loaded onto old steamships and anchored in coastal waters outside the three-mile limit. What's illegal on land is vaguely legit offshore. As the money rolls in on the tide it carries the bodies of those who don't play by the rules—Mob rules, Hollywood rules. And Jake Hollow rarely plays or flies by the rules, because That's Life, I Guess. Click here to order.
This easy-to-read aviation book is ideal for student pilots with no flight background who wish to gently immerse themselves in flight training. Perfect for private and sport pilots to brush up on the aero basics before a biennial flight review (BFR). Flight and ground school instructors will appreciate the Private Pilot Beginner's Manual (for Sport Pilots too) 2nd Edition as the ultimate guide for introducing or reviewing aeronautical basics without scaring off future, or returning, pilots with overly technical dissertations. You'll laugh, you'll fly, you'll refer back to it throughout your flying life. Keep Flying! Click here to order.

It's 1937. The Depression lingers as Dust Bowl and SPAM enter the American lexicon. War begins in Spain. Amelia Earhart is lost over the Pacific, and the King of England, unable to cope with her loss, abandons the throne to marry some woman he pretends to love. More importantly, Prohibition is over, leaving thousands unemployed. Gangsters, G-men and barnstormers who'd once made a respectable living in the bootlegging trade turn now to less interesting work. For pilots this means airline jobs, except for one enterprising flyer, Kate Strauss, who can't qualify for the airlines, because No Women Allowed in the cockpit. Kate, along with a devoted circle of friends and lovers, keeps a small midwestern flight operation aloft by the numbers…the numbers racket, that is. Money laundering, Chicago mobsters, biplanes, newsreel footage, running boards on a blood red Ford V8, ten cent gas and nickel cigars, plus a few Hollywood celebrities just to give it class…it's all Inside The Circle. (Rated PG-13 for gangland violence, crude language and shameless smoking in public.)
Click here to order.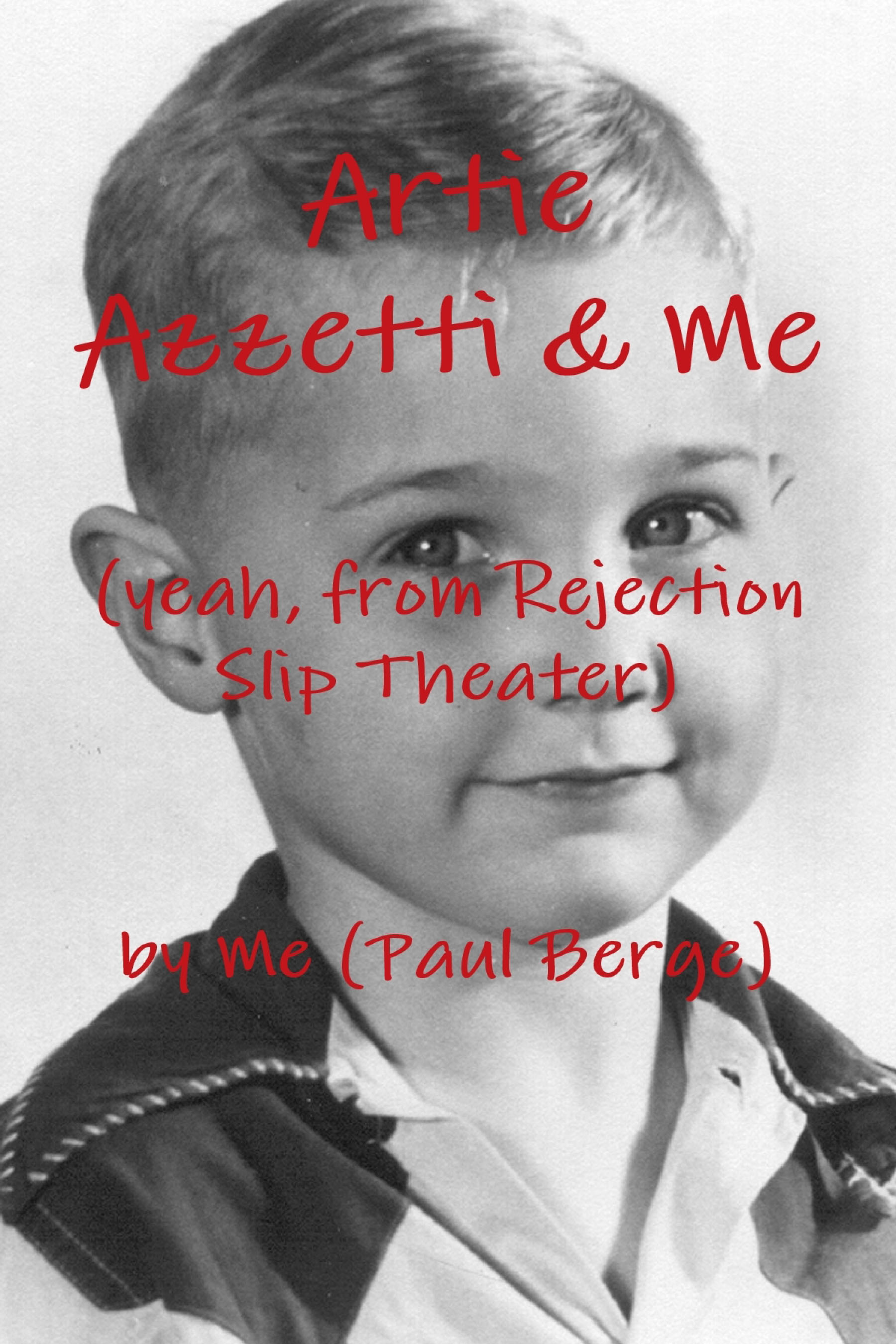 Seventeen years after Artie Azzetti first appeared on Rejection Slip Theater, the author finally...finally (the lazy bum) got around to publishing a paperback collection of some of the short stories about the gang of kids from St. Anthony's Elementary School in Westwood, New Jersey 07675 (Exit 168 Garden State Parkway). You'll laugh, you'll sneeze, you'll get detention in Sr. Belladonna's class. But that's no excuse. Order your copy of Artie Azzetti & Me today....no, today. Click here to order.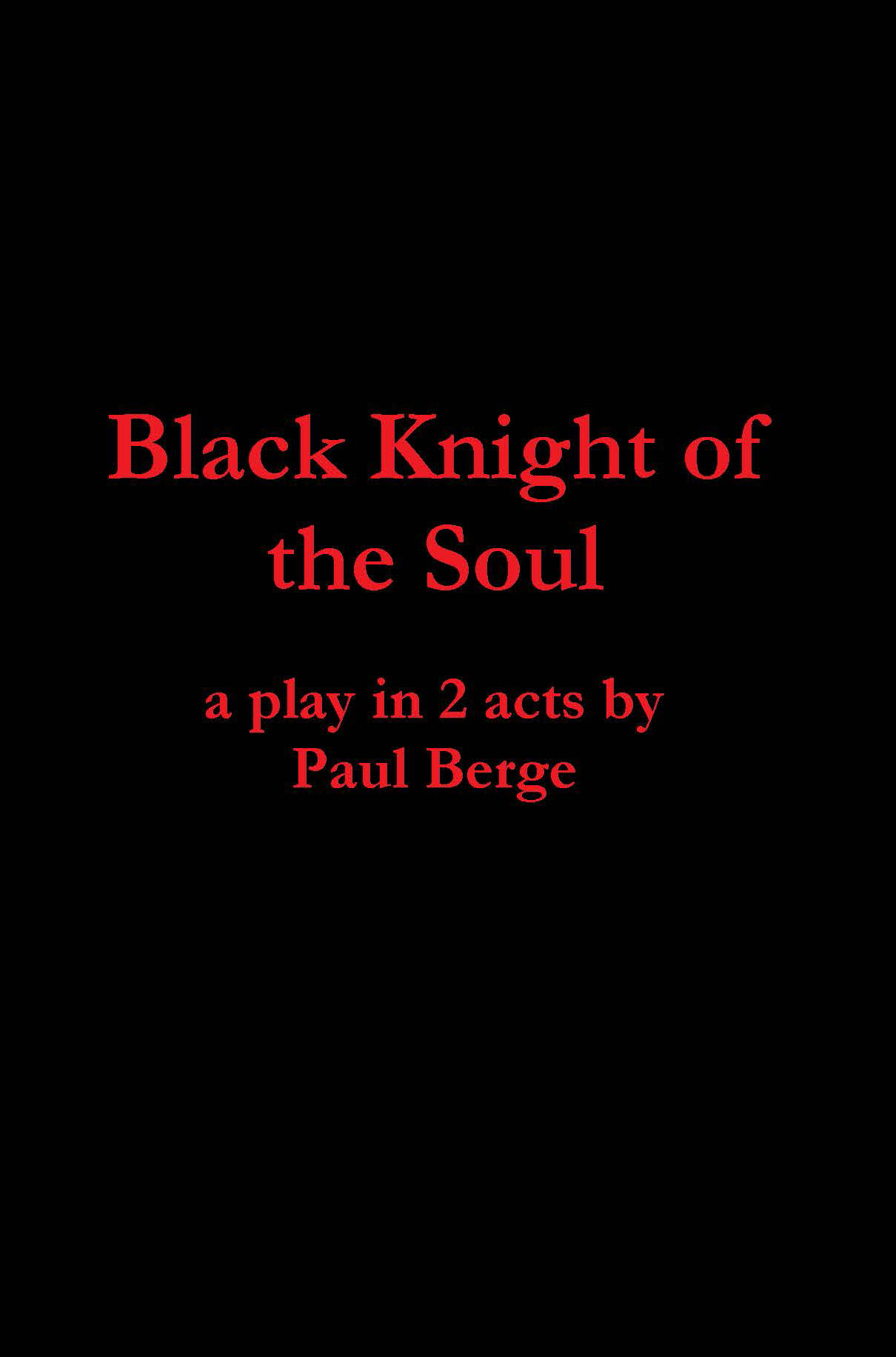 Black Knight of the Soul first aired as a radio drama written by Paul Berge, host of Rejection Slip Theater. This medieval fantasy drama tells the story of King Edgaard of Delberry Cue and his fight to regain the crown that was rightfully his, but (as often happens) was usurped by a thoroughly nasty fellow named Cardinal Baskill.
Murder, intrique, passion, battle scenes on foggy moors...it's all here and ready to go on stage. So assemble you cannons, archers and actors, and then, contact Ahquabi House Publishing for permission to present Black Knight of the Soul.
Click here to order.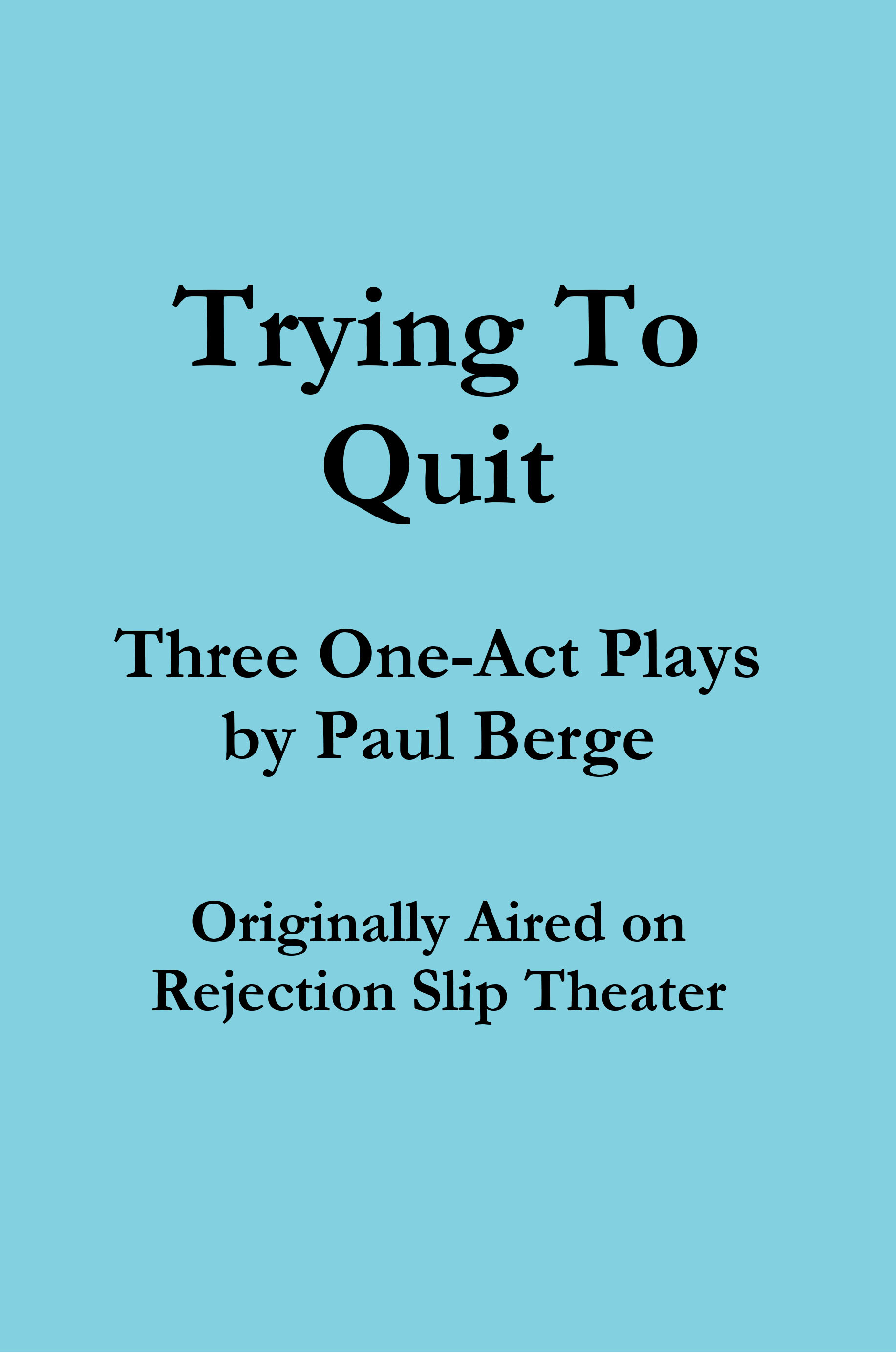 Three one-act plays, by Paul Berge, originally performed on the radio drama series "Rejection Slip Theater," now adapted for stage.
Click here to order.