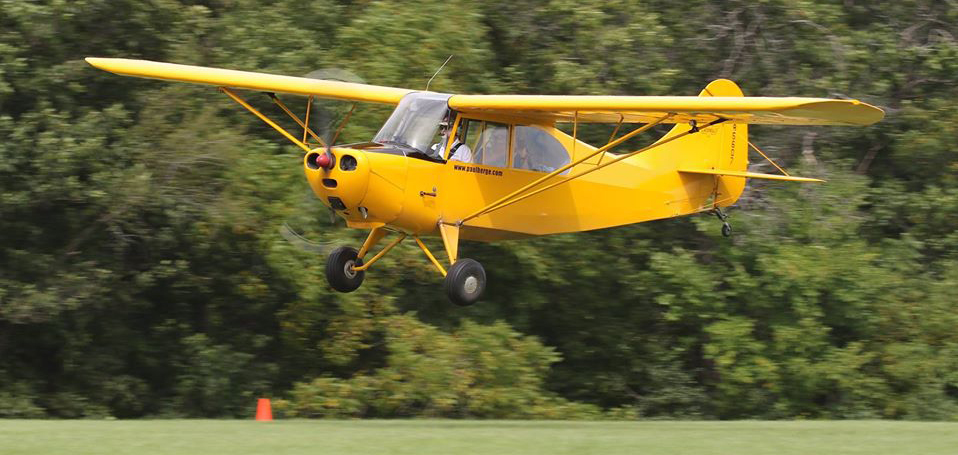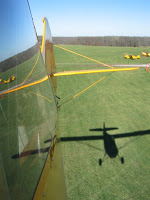 Ahquabi House Publishing announces the

simultaneous release of two novels by Paul Berge!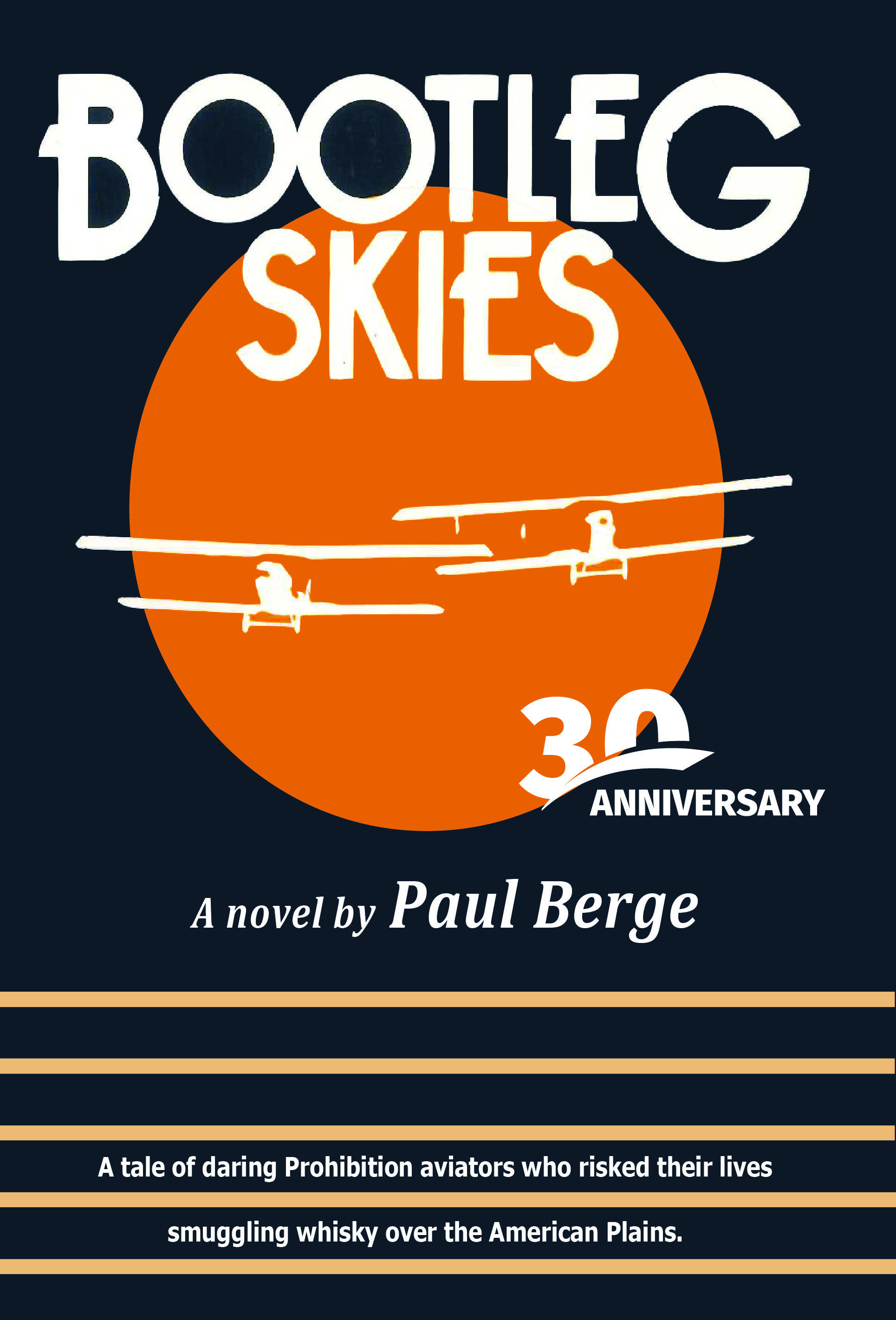 Aging in Sitka spruce filing cabinets for three decades, Bootleg Skies, Berge's 1987 debut novel, is now back in print. The book that introduced the flying world to the 1920s barnstorming miscreant, Jake Hollow, makes its return to the literary firmament in this 30th anniversary hardback edition.
Get ready to shame neighboring beach-readers with their Kindles and Nooks by cracking open a real doorstopper with real covers and 408 pages of real fictitious aviation adventure, romance, violence—and a smattering of gratuitous sex. This is the original tale of the open-cockpit bootleggers who thumbed their frost-bitten noses at Prohibition agents and rival smugglers by delivering illegal hooch from Canada directly into the righteously dry Midwest…by air.
The year is 1929…um, the year of the novel, not today's year…and Jake Hollow has run out of ways to squeeze a dollar from selling rides in his WWI surplus biplane to smaller and smaller crowds. Opportunity flops at his muddy feet when he meets three bootleggers looking for the next best thing in whisky smuggling technology. They form an aerial freight-delivery enterprise using airplanes instead of trucks or boats. They fly in all weather, which for some, means they crash and die in that weather. Blaze of summer or frozen hell of Minnesota winter, the booze must get through. Order your hardback copy of Bootleg Skies 30th Anniversary Edition before Oprah tells you to.
But wait, there's more!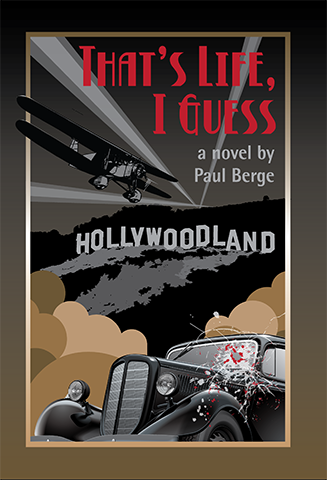 The long-awaited, and much rumored sequel to Bootleg Skies is now a reality—as much as fiction can be reality. That's Life, I Guess, by Paul Berge, is set in 1936 Los Angles and retrieves some characters — we won't say who — from Berge's first novel into a new adventure involving organized crime, disorganized romance (our polite way of saying, sex) and more ways to combine all of this with the best 1930s airplanes and automobiles in a Hollywood setting on the MonoGraph Pictures dustiest back lot.
You'll rub silky elbows with mobsters and movie stars at Beverly Hills soirées and be on the edge of the swimming pool, sipping champagne and wondering who survives and who flies or dies.
Money is no object in recreating the Depression-era City of Angels, and neither is the law, which frequently gets bent, if not completely broken on the 380 pages inside this hardback first edition.
It's 1920s and 30s beach reading time, so no need to slather on the SPF or worry about smoking in public. In those days—and in these novels—smoking, drinking and cheating is practically required. Indulge yourself, get That's Life I Guess, first edition, and Bootleg Skies 30th Anniversary Edition, by Paul Berge. Read both in public—simultaneously if your eyeballs work that way—and watch for the envious side glances from the other beach e-readers as you flip real pages filled with real fiction.
And send us a picture, showing where you've enjoyed Bootleg Skies 30th Anniversary Edition and its sequel, That's Life, I Guess. If it's not too weird we might post it on our Facebook page.
Welcome to the official site of Paul Berge.
Stop yourself if you've heard this: A guy walks up to Paul Berge at the Ailerona airport café and says, "Hey, you're kinda famous, aren't you?" And before Berge could answer, "Why, yes, I am, Mr. President," this guy realized his mistake and quickly left. Despite the misidentification (possibly he was thinking of the late Perry Como, a common mistake), the handle, "Kinda Famous," stuck. You could search the Internet and get all sorts of hits on Paul Berge, flight instructor, writer, actor, veteran, retired air traffic controller, cellist… Okay, that last one was a stretch, but it was on the web so must be true. Truth is an illusive currency in today's world, but you can be certain that by exploring this site and reading Berge's many short stories, novels and viewing some of his videos, you'll say to yourself, "One day, that guy's gonna meet someone sorta famous." Meanwhile, be sure to order the vegie omelet with pepper jack cheese next time you're in the café, and remember to tip your waitress; she's working on her pilot license and needs the money.

Private Pilot Beginner's Manual (for Sport Pilots too)

2nd Edition is here and ready for you!


This easy-to-read aviation book is ideal for student pilots with no flight background who wish to gently immerse themselves in flight training. Perfect for private and sport pilots to brush up on the aero basics before a biennial flight review (BFR). Flight and ground school instructors will appreciate the Private Pilot Beginner's Manual (for Sport Pilots too) 2nd Edition as the ultimate guide for introducing or reviewing aeronautical basics without scaring off future, or returning, pilots with overly technical dissertations. You'll laugh, you'll fly, you'll refer back to it throughout your flying life. Keep Flying!
Click here to order.